12" Rear SS4 Brake System with Park Brake
back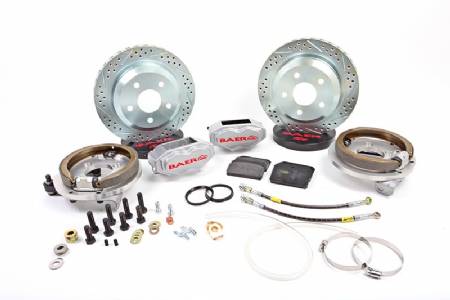 Product by Baer Brake Systems
This system features the S4 4-piston caliper mounted to a 12" 1 piece slot, drill, zinc plated rotor. Baer systems include a unique billet backing plate that not only acts as a caliper mount, but also houses the bankisa (1-piece) park shoe. This is a more modern (better working) park brake assembly then the more commonly used drum in hat park brake systems. Systems feature stainless steel brake hoses as well as calipers that have D.O.T compliant dust and weather seals.
Rotor Size/Type: 12" 1-piece
Piston Count: 4 piston
Pad Type: Common 4 piston pad shared on the aftermarket (#DR1 or Hawks #HB100)
Minimum Wheel Size: Some 15" or larger (Use template to verify fitment, link below)
Includes: Stainless braided brake hoses, Park brake assembly, park brake cables. Includes Baer's Verislide brakes to allow the rear caliper brackets to "float" to allow movement of the factory C-Clip axles.
Notes: Designed to be used with Stock GM Saginaw 10 bolt with Drum.
"12" Rear SS4 Brake System with Park Brake" is listed in these Categories...