Smashing Pumpkin - Feature Article - GM High Tech Performance Magazine
If you frequent the GS Nationals or East Coast Turbo Buick events, then seeing this Orange Metallic T-Type with its front wheels in the air should be a familiar sight. Since 1999 Jack Cotton has been pushing the envelope in his '86 TR, affectionately referred to as "The Great Pumpkin", testing an array of high performance parts supplied by his business and developing the methods currently employed as a builder of proven 10-second TRs. However, a few years ago the project took on a new dimension when a chance offering had Jack trading a low 10-second capable stock block motor for a Stage II. Ever since, the new combination has been continually refined, as ETs have so far been whittled down to 8.90 at 154 mph with plenty more room to go, according to Cotton.

"There is still a lot more left in the car, but I haven't found the need to push it any further. Maybe someday we will." Most runs Jack does not exceed 26 to 28 lbs of boost with the Turbonetics Y2K 82mm turbo, since so much is still being left on the table with the suspension and launch technique alone. "I usually click the button [let out the transbrake] at about 4,500 rpm, and there is a narrow window from there until I actually start moving when boost goes from 6 psi to as high as 15 psi."

The gargantuan turbo and 274-cubic inch Stage II motor create enough chassis-twisting torque that launching is downright scary, which doesn't seem to phase Cotton--formerly a hard-living biker. "Launching this car is an absolute @#!%ing rush. It's a combination of a couple of emotions: there is an absolute fear involved with letting the button go, and at the same time absolute exhilaration. There are plenty of times when the front end reaches for the sky or you get squirrelly and you have to make that decision to lift or stay in it, and having to make those instantaneous decisions is where the fear and exhilaration come from. It's like Clint Eastwood said, 'Do you feel lucky?' Some people think it would be nice to have a clean launch every time, but that would get boring--I do enjoy doing a big wheelstand or being a little squirrelly at the beginning. But if at say, the 330-foot marker, you don't have it under control, the run is over."

Between the speed, the power, and the nature of turbo motors, any slight hesitation could easily cost Cotton his life's work--something he has been through once already when his pride and joy, a built-from-the-ground-up GN, was stolen. We won't get into this painful memory; however, they say tragedy is opportunity in disguise. Without this little setback, Jack never would have turned a white T-Type daily driver into The Great Pumpkin with the help of his son Brian, who helped do most of the work on the car including bending the custom exhaust and notching the frame rails, in addition to his engine-builder Bobby at RPE and of course Paul Thompson of River Street Autobody.

A custom orange paint was mixed as an homage to Jack's old Harley, and that was sure to stand out on a Buick. The car had some minor front end damage when purchased and has since incurred a few minor fender benders, however Jack credits Paul as a magician for managing to keep the body as straight as it is. Three coats of base, pearl and clear were applied in the Dedham, Mass., shop to the pieces of reworked body paneling along with the fiberglass doors, hood, trunk and bumpers with all OEM windows and panels still intact. Most of the interior was also kept, except for the radio and HVAC controls, however, one of Cotton's custom-built 8-point roll cages was a necessary addition. Kirkey Pro Street seats, G-Force 5-point harness, parachute tank, and Autometer gauges also adorn the plush Buick interior.

A FAST XFI computer also makes its home inside the greenhouse, which Jack has tuned. The XFI module helps control the RPE Stage II motor that boasts a 4.020 bore and 3.62-inch stroke Buick Motorsports forged crank. Oliver billet steel rods push a set of low-compression Diamond forged pistons through the six iron cylinders. The 8.5:1 compression motor utilizes a set of Champion GN1R aluminum cylinder heads with a raised runner and full race porting. An RPE-spec solid roller camshaft from COMP Cams actuates the stainless steel 1.89 intake and 1.60 exhaust valves with Manley pushrods and T&D aluminum 1.55 rockers doing the dirty work. The brand new Champion intake helps feed the massive bore and stroke with an Accufab 90mm throttle body and Bosch 160-lb injectors. An Aeromotive Pro-Series pump is needed to keep with the fuel demands of the Stage II motor while the stock ignition has proved sufficient. Supplying the fresh atmosphere is a custom-built cold air kit that was built by Cotton with friend Pete Tompka, while one of Cotton's front mount, air-to-air intercoolers chills the pressurized air. Combusted gases exit via modified ATR headers and a 5-inch downpipe, which reduces to 4 inches before its termination in a bullet muffler.When making this much power, a 200-4R is no longer an option, so Jack turned to Best Transmissions in Springfield for a rock solid Turbo 400. A JW flywheel, ATI 9-inch 3800-stall converter, and B&M Pro Stick are used to negotiate all three gears and the transbrake. However, the 8.5-inch 10-bolt has continued to prove itself a reliable competitor. Fortified with Moser 33-spline axles and a spool, this rock solid combination needs only stock 3.42 gears to go through the traps at 6,800 rpm (near the 7,000-rpm shift point) with 29.5x10.5-inch Mickey Thompson drag slicks.

Dialing in the suspension has been an ongoing process, which at current moment consists of Wolfe Racecraft rear sway bar along with adjustable upper and lower control arms. No traction aids are used to achieve 1.32 60-foot times, just the Wolfe components and QA1 coil-overs. The front suspension may soon be converted to lighter weight tubular units, however, a removed sway bar and Weld/Mickey Thompson skinny combo are all that is used to balance the weight distribution. Competition Engineering 90/10 shocks and stock springs help enable the tremendous weight transfer that lifts the front end so easily. In fact, Jack's significant other, Lorrie, who has supported him and this project since day one as an avid race fan, may soon be purchasing him a set of wheelie bars.

Wheelie bars or not, you can't put a leash on a wild animal. The best you can hope to do is keep from scraping the back bumper as many hot rods are known to do, however, few exhibit such style and class. This is what keeps the Agawam, Mass.-native coming back to the GS Nats every year--a shared appreciation of the quiet dignity possessed in the mighty turbo V-6. Even with a wild orange paint job and 274-cube Stage II motor, Cotton's T-Type still exemplifies the epitome of going fast with class, year after year.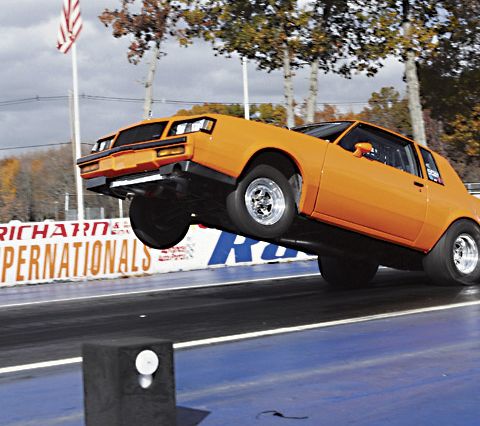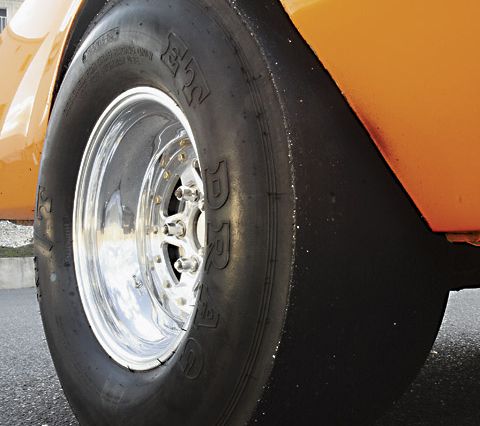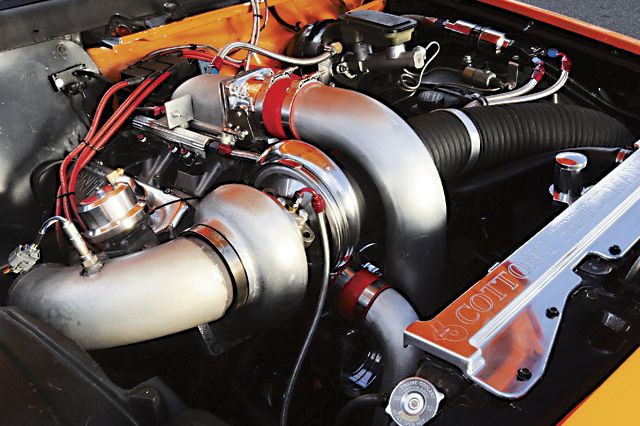 Big motor, big turbo, big wheelstand. Cotton employs a custom Turbonetics Y2K 82 turbo to feed a 274-cubic inch Stage II motor. This bad boy also uses a whopping 5-inch downpipe that reduces to 4 inches just before it releases the sweet smell of race gas into the atmosphere. Champion GN1R race-ported, raised runner aluminum cylinder heads are mated to a Champion intake and Accufab 90mm intake to maximize flow.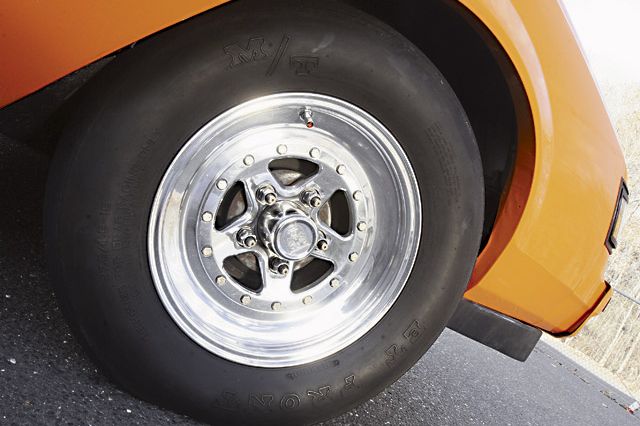 Baer Sport front brakes help haul the Pumpkin down from over 150 mph in the quarter using 11-inch rotors and twin piston calipers. Classic Weld Aluma Stars reduce rolling resistance with 15x3.5 front and 15x10 rear.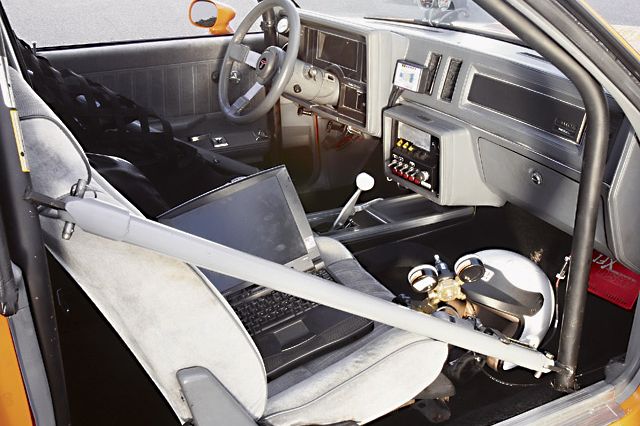 The interior is adorned with Autometer gauges, a Moroso switch panel, Innovative Turbo boost controller, FAST XFI and a custom built 8-point roll cage.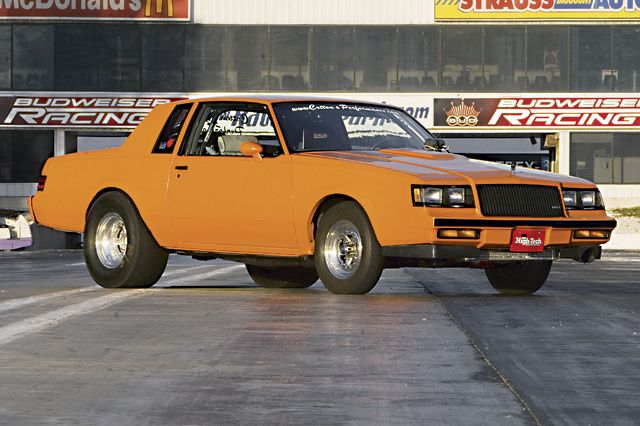 As a supplier of parts as well as a builder of Turbo Buicks, Jack Cotton and his Great Pumpkin are no strangers to the community. While this T-Type dates back only as far as 1999, Jack was building Turbo Buicks long before then.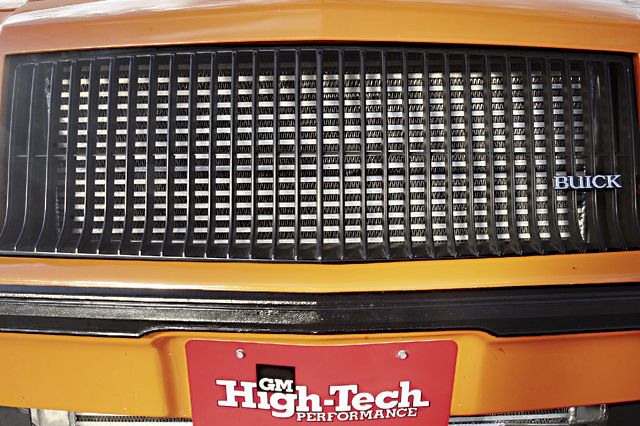 Cotton has experimented with many different front mount air-to-air intercoolers over the years. In working with his fabricator, he developed this over-sized unit using a Spearco bar and plate core. He has since switched this unit with a thicker core with less height in an attempt to increase efficiency.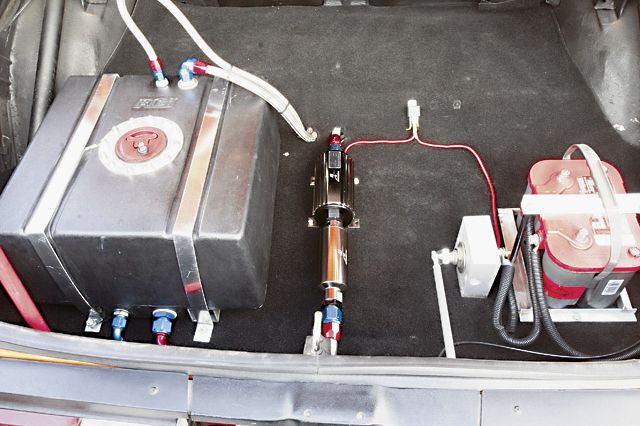 A 10-gallon fuel cell is used for extra streetability and weight distribution, along with the rear mounted Optima battery, with an Aeromotive pump supplying the go juice to the thirsty Stage II motor.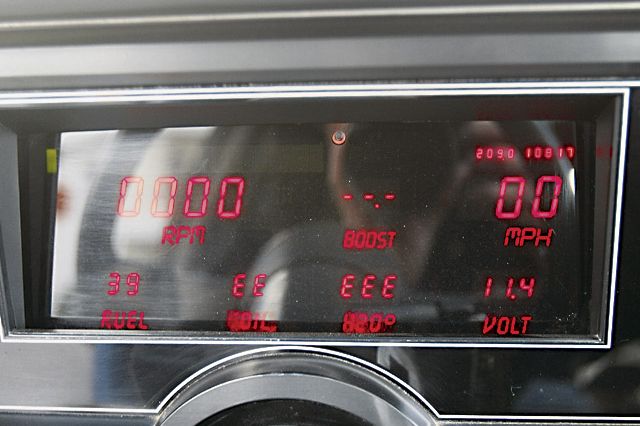 The dashboard has been updated with a set of digital gauges from Cyberdyne.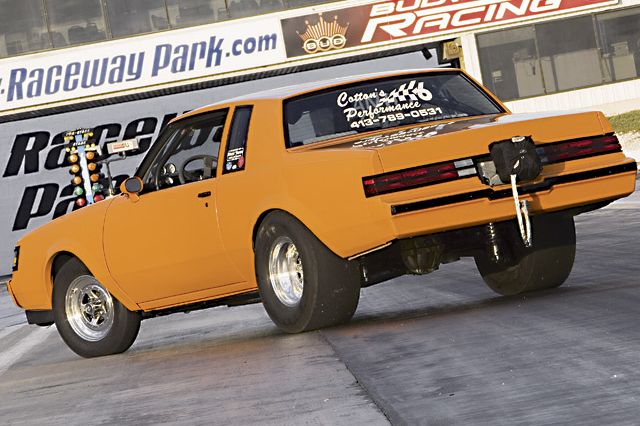 Paul Thompson of River Street Autobody gave the Pumpkin its signature orange pearl paint job, straightened all of the quarter-panels and fenders, and installed the fiberglass doors, hood, trunk and bumpers.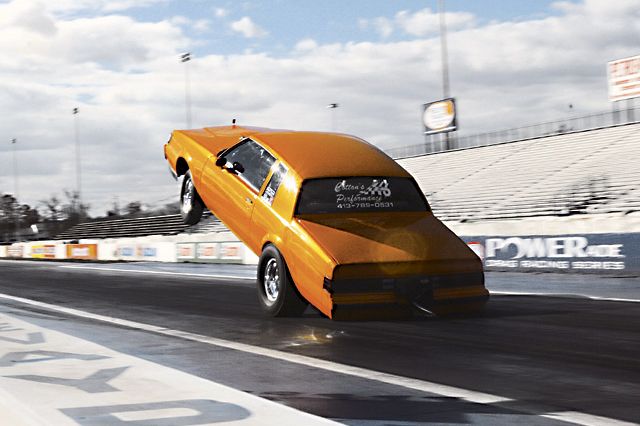 "There are plenty of times when the front end reaches the sky and the rear gets squirrelly. You have to make that instantaneous decision whether to lift or not, and that is where the fear and exhilaration come from."