Sub-nines T-Type - 1986 Buick
A 1986 Buick pummels competition with a V-6; wheel stands are optional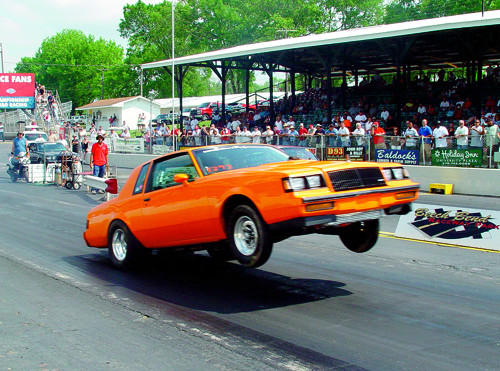 Drag racing is something that just fell into place for Jack Cotton. It started about 10 years ago, which coincided with the opening of Cotton's Performance Center, located in Agawam, Massachusetts. But at the time, his choice of vehicle was a little different from the bright orange 1986 Buick Regal T-Type that he campaigns today.

"Back then, my son and I were working on a Grand National. One morning, we stopped at a Dunkin' Donuts for some coffee. We were inside for only a few minutes, but it was stolen right out from underneath us during that brief span of time. I was crushed," recalled Cotton. The loss had a prolonged effect, but with the encouragement of friends and family, he eventually turned his attention to the aforementioned T-Type that had been waiting in the wings for roughly eight months.

"We started from scratch. Everything was a step process for us, and its build coincided with the growth of our performance business. (Editor's note: Cotton's Performance focuses on Turbo Buicks). Our very first run with the car was in bone-stock configuration, and we ran a 13.90. But you just can't be satisfied with that," laughed Cotton.

According to him, after that first venture to the quarter-mile, simple tweaks lowered the times to a new best of 13.10, which eventually gave way to a 12.90 run as modifications mounted. These mods, mind you, were all connected with the business. Said Cotton, "This car was essentially the test mule; if it worked on our car, we'd gladly build it into our customers' cars. For instance, after that 12.90 run, we installed a new trans with a torque converter and we found ourselves running an 11.50."

It wouldn't be long before a set of headers was installed, followed by a new cam. It was during the early years of the build when the bright orange paint was applied, and because of safety regulations, a roll cage was installed--fabricated by Cotton. In fact, the car was still registered and was competing on street tires when the T-Type ran an 11-flat at Englishtown in New Jersey. It was also a daily driver, which was soon about to change.
"When we dipped below 11s, all we had to do was show up with that bright orange Buick and we'd strike fear into the competition. We did everything to that car: modified the suspension, notched the frame rails, fabricated our own intercooler, installed a bigger turbo unit and even began tuning the engine with the laptop computer--but it still had the 200-4R trans.

"Eventually, we went ahead and installed a Stage II block, which is the same V-6 block formerly used by the Buick racing teams in the old Busch Series (now the Nationwide Series). That was seven or eight years ago, and the times instantly jumped to sub-10s. We're still running that same block today," reported Cotton.
It's interesting, however, how one change can create a legend. During our conversation, Cotton mentioned how the set of tires he was running didn't quite grab the way he wanted them to. A friend insisted that he switch to a set of Mickey Thompsons, and the result was stunning.

"It was always a dream to do a wheel stand, but I had not been able to prior. I put those Mickeys on, and on the very first pass, the bumper was on the ground. It's a thrill now, but it was pretty hairy on the first shot. At the time, I was trying to qualify for the Quick Street class at New England Dragway, in Epping, New Hampshire. I was competing against a lot of big-block V-8 guys, but after that run, there was a parade of people passing my car--all of them were counting the number of pistons I had. You could actually see them counting," laughed Cotton. "That said, it's not the best way to achieve fast time."

Speaking of fast time, even with all the pressure to perform a wheel stand at every event he attends, Cotton managed to achieve a personal best of 8.88 at 155 mph during our Musclepalooza V event at Lebanon Valley, in New York, in May of 2007. And the modifications to the V-6 powered Regal continue.

"Right now, we're running an 80mm turbo, but that's about to change. At the same time, we're working on a new suspension to help keep the front end on the ground. Although I got accustomed to doing the wheel stands, you really don't want to get too carried away with it--things can happen in a hurry, and we just want to go faster anyway," said Cotton.