11in Front SS4 Brake System
back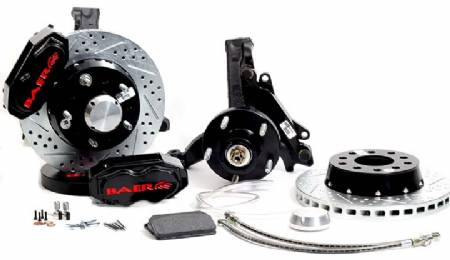 Product by Baer Brake Systems
This system features the S4 4-piston caliper mounted to a 11" 2 piece slot, drill, zinc plated rotor. Baer systems include stainless steel brake hoses as well as calipers that have D.O.T compliant dust and weather seals. Quality SKF or Timken bearings used, along with NAS high grade stainless hardware for our pre-assembled 2-piece rotor. The SS4+ is designed just like Baer's larger systems, but in a smaller package for 15" wheels. This system will come completely pre-assembled on modified stock spindles.
Rotor Size/Type: 11" 2-piece
Piston Count: 4 piston
Pad Type: Common 4 piston pad shared on the aftermarket (#DR1 or Hawks #HB100)
Minimum Wheel Size: 15"
Includes: Stainless braided brake hoses, fully assembled aluminum hubs
Track width Increase: Increases track by .400 a side
Notes: System comes completely pre-assembled on stock spindles
"11in Front SS4 Brake System" is listed in these Categories...